As I was out for my daily dose of exercise today, I could not help but feel grateful to the people I saw en route. There were many outside – and everyone a) was doing their best to keep the 2 m physical distance, and b) seemed to be at ease with themselves and the situation. Making the best of it.
Has anyone else noticed that families seem to be getting on better than before the Covid pandemic? At least the ones who you see on their daily walks outside, or cycling, or running, or queuing at the local bike store hoping to get their bikes repaired. It's been weeks since I last heard an adult raise their voice with a child. Seriously! Parents seem more relaxed, and the kids I see seem to be enjoying their company a lot. It might be particularly true for those families that do go outside and exercise (and I am grateful to the Irish government for its wisdom in allowing daily brief times of outdoor exercise within a 2 km radius of home).
And I'm also truly grateful to everyone for following the Government rules and guidelines. The number of Covid-19 cases in Ireland could have been so much higher.
The lock-down has changed everyone's daily life, obviously. We all are restricted in what we can do. In many ways, that is problematic and challenging. Some are flat-out working in healthcare, supermarkets, deliveries etc. Others are facing income reductions (I teach computer skills in small groups; my Easter Camps and library workshops had to be cancelled, my weekly classes took a hiatus and are now online, thanks to Zoom.) And yet – there is a certain gift in the situation.
We get to do things we wouldn't have done otherwise. Try new recipes, based on what we can get and helped in many cases by having more time at our hands. Thank God for the internet that allows us to search up curries and sourdough breads and cakes and salads… and that allows us to order things (albeit it might take a while to get them)!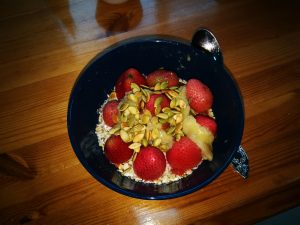 The community spirit has been super in Skerries and in many other towns around the country (and the world). Another great thing to see. Here, we have a very active group of 77 volunteers who take phone calls from those who need deliver shopping, prescriptions etc. This group is due to the initiative of Ronan O'Callaghan, and Skerries Community Association & Age Friendly Skerries soon got on board, too. On Facebook, a couple of local groups have been created… Skerries Against Covid 19 is a great place to share information and to keep spirits up. Thanks to Gráinne Enright for setting it up! Seána Ó Rodaigh created #SkerriesCents in order to help local businesses in these very different circumstances. Sustainable Skerries set up two groups in these lockdown times: A WhatsApp Group for Gardens for Pollinators and a Facebook group for those interested in growing their own food. Within a week, it had 65 members!
And that is not all. For instance, given that we have had a long dry spell, individuals have taken the initiative to water the many young trees that the county council planted in March. On my run today, I even saw a local resident spread compost around a few nearby saplings which looked poorly. And many others showed signs of recent watering.
Speaking of trees and other plants … Gardening is another thing that has blossomed in so many households. Even those without an actual garden – window sills are full of seedlings, and even microgreens. I've rediscovered my small patch in the back and have done more with it than in all the previous 19 years since we moved in! This year, I fully intend to get more of my strawberries than the slugs. So there. Online seed suppliers were doing such a roaring trade that a fortnight ago, many had to stop taking orders – the situation has improved now, by the way. And I can highly recommend growcookeat.ie for inexperienced gardeners like myself – their videos are super clear and instructive. I now understand why so many tings went wrong for me in the past!
All in all, however, the current situation has taught me the value of patience and of pruning my daily schedule, so that that which is most important remains. (A grateful nod has to go out here to Darren Hardy and his Darren Daily videos, from which I am learning so much every weekday.)
And I admit that the first week or two, I too was confused and felt way more stressed than before I was forced to do so much less. Strange, isn't it? Now, I've settled into the new (temporary) normal and am benefitting hugely from my new mental attitude. The "but if it wasn't for the pandemic, I would … [insert what you would be doing yourself here]" thoughts have pretty much gone away, and I am enjoying our restricted but still wonderful life at home much more.
Today (I am writing this on my 55th birthday) I was meant to be in London. Last week, we were meant to have been on Lanzarote for a week's holiday with my mother. Tomorrow was to be my second marathon this century, the London Marathon, and I had been counting the days to it. These things were not to be. A pity, but it can't be helped.
Instead, I am in Skerries. I was out for a much shorter run (2 km radius and all). I will have lunch in the garden and was able to talk to my mother on the phone and to our son via video chat.
As governments begin thinking about loosening restrictions (not too fast, I hope, lest the good things we achieved be undone!), my thoughts turn to the question what will be the New Normal After The Pandemic. Will we be able to bring some of the things we learned with us? What will those be? Will we be able to act as decisively to mitigate climate change as we have been to deal with the pandemic? Will we have learnt to appreciate our current more sustainable lives? I wonder about Life 2.0. And Society 3.0…
PS: My mental balance has also hugely been helped by listening to Feel the Fear and Do It Anyway by Susan Jeffers. I'm grateful to Willem Flach who suggested this as a shared book for his current 12-week accountability mastermind group, in which I am happily participating. Thank you, Willem!
Besides, I have benefited to listening to specific podcasts by Rich Roll (big fan!), Dr Rangan Chatterjee, and Dr Rupy Aujla, who usually posts super podcasts / videos about healthy nutrition in "The Doctor's Kitchen," but in this instance is talking about his and his guest's experience as a medic during the pandemic.